In years past, sophomores would soon start to look at the classes they will be able to take in their junior year, including AP US History and American Literature. Unfortunately, this is the first year that those courses are not being offered.
Questioning this, I noticed that for the other schools in the district (Pioneer Valley and Righetti) AP history courses are still being offered. Is this due to there being some kind of disparity between schools? I emailed Dr. Krista Herrera, the assistant superintendent  of Curriculum and Instruction, and she said, "There could be a variety of reasons for this. Your assistant principal, Mrs. Pallan, would know for sure how this decision was made…This is a site-based decision and is most often a reflection of student requests…Colleges now prefer dual enrollment over AP and certain colleges have started not honoring AP credits, so if a school has to make a choice between AP and AHC (Allan Hancock College dual enrollment classes), based on staffing or student requests, it would make sense to prioritize the college course. We build our master boards according to student interests; however, there are constraints. For example, our teachers must apply to become a college instructor to teach a concurrent enrollment course. AHC has their own minimal instructor qualifications requirements.  This can take time for teachers to obtain."
After repeated attempts over several weeks to interview Ms. Pallan, our assistant principal who is also in charge of curriculum and instruction here on campus, both in person and via email, I was unable to schedule an interview with her to get her feedback for this article.
The rumor as to why the APUSH course has been removed for juniors this year is because there is an equivalent at Allan Hancock College, and it would be better is students take those courses. If students choose to take this course, they will receive and extra point added to their final grade, so students would receive 5 points for an A in AP on concurrent AHC enrollment, whereas in normal history classes you would receive 4 points for an A.
Story continues below advertisement
"
I worry that since nobody will be taking AP at the junior level, fewer and fewer students will choose to take AP at the senior level."
— Mr. Guiremand
Mr. Guiremand, current social sciences teacher at Santa Maria High School said, "All students have the opportunity to take the (AP) exam in May and our school makes it easy because they will buy a test for every student who registers, so it's expected for every student in my AP class will take the exam. All students have the option to choose the concurrent enrollment class which earns them the additional grade point and if they pass it, they also earn three units of college credit. I'm happy to teach whatever the students chose to sign up for. They're both good programs that challenge students and give them the opportunity to experience college-level work while still in high school. I see value in both of those. I worry that since nobody will be taking AP at the junior level, fewer and fewer students will choose to take AP at the senior level."
Mrs. Hennings, who previously taught the APUSH (Advanced Placement US History) course said, "I talked to a [former] student whose professor is part of the admissions for Cornell University, and he said that they were shocked that we were removing AP because that is one of the first things they look at when looking for admissions to their school. I know that Stanford University, since it's a very highly-ranked private university, they said, when our counselors talked to them years ago, that they would not accept the Hancock transfer credits but they would accept the AP credits.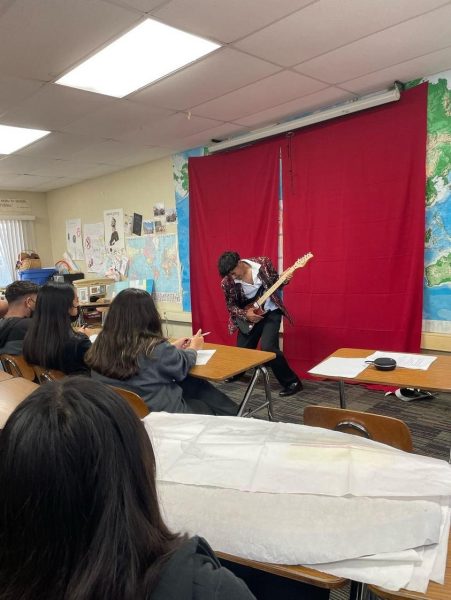 So, for those types of schools it is definitely very beneficial to our students to have AP or at least to have taken the AP exam and hopefully pass it. I am preparing my students as best as I can to take the exam, since the two curriculars slightly vary, I am going to have to do some extra work like working with the kids at lunch or after school to properly prepare them. I am very sad that the AP U.S. History class is no longer here because I think it was a great thing for our students to have choices, and so I'm sad that there are less choices for our students, but I do think that the Hancock class is another great option; I just feel like it would be better if students had the choice between the two."  She also told us, "Yes they get a GPA boost for AHC.  Students can graduate with a D in the Hancock class, but do NOT earn college credit unless they receive a C or better.  Plus they would have a D on their college transcript.  Low GPA's on college grades can potentially make them ineligible for financial aid in the future and, of course, those low grades remain on their transcript for life."
Current senior Angel Yepez, who previously took AP US History said, "I noticed that everyone was confused because we knew that you could get college credit for both as well as the GPA boost, so we thought why take the AP test when we only get one opportunity to get the college credit when we could get the whole year to try to secure that college credit because we just have to pass the [AHC] class, which is much easier. I remember going home and researching what some differences were. What I clearly remember is that there was an article or two that clearly said that when you're applying to universities, AP classes look better, so I thought that regardless of how hard the AP class is, it would be smarter to just show up and do well because I know that I'm capable of doing that."