The girls golf team continued their march through the season October 2nd, 2023, at the Santa Maria Country Club. We were the host school; we invited the league to "Think Pink", and the girls came decked out in various shades of pink: shirts, socks, ribbons, and even tu-tus. In addition, the tournament served as a warmup for the league championship in two weeks.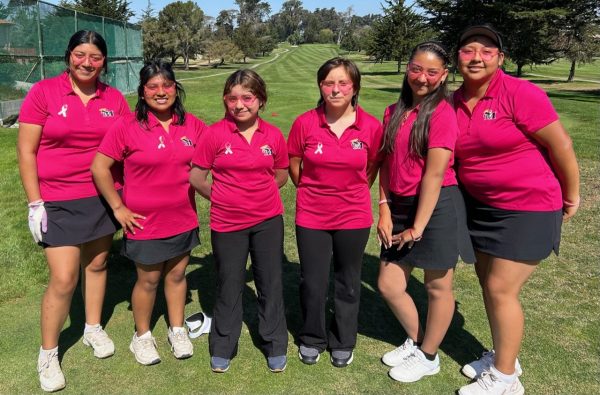 All of the other weeks the girls have played nine holes. In order for them to be better prepared for the rigor of league finals, it was decided to play a full 18 holes. The average distance walked while playing 18 holes is six to seven miles. Add to that the physical and mental energy that goes in to playing competitive golf and it was a very demanding day. After the tournament Coach Cheney asked the girls what they would say to those who claim that golf is not physically demanding. One reply was basically that her exhausted legs and muscles were evidence to the contrary.
As for the Saints results, we were ahead of Mission Prep in the standings and yesterday inched ahead of Morro Bay by one point. Most of the girls shot season average scores.
Kareen Martinez and Jimena Diaz are neck and neck for the low average on the team. Freshman, Annika Perez continues to be a bright addition to the team. She led the team yesterday in only her second tournament. Her score of 53 on the back nine holes was the lowest 9-hole score on the team this year and was a top 10 score for that half of the golf course.
Story continues below advertisement
Girls' Golf Roster:
Kareen Martinez is a senior playing her 3rd season.
Alondra Neri is also a senior.  She joined the team last year.
Jimena Diaz is a junior also playing her 3rd season.
Diana Nicolas is a junior playing her 2nd year.
Ashley Astudillo is also a junior in her 2nd season.
Sophia Baray is a sophomore in her 2nd season.
Evelyn Noriega is a junior and brand new to golf.
Jennifer Jimenez is a sophomore who is also new to golf.