Teen Closet
Did you know we had a teen closet? It provides the things you need, like literally everything, well almost everything.
You might be questioning what a teen closet is, I myself was clueless at first too. I didn't know it existed at all, it's located behind the girl's locker room, near these red picnic tables and then you see this one singular door. I always wondered where that door led to, but now I know.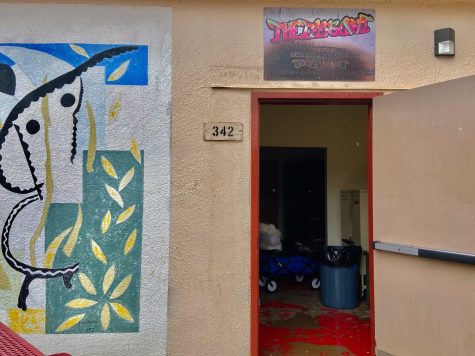 I entered the room, and it reminded me of a Thrift store, they had clothing, shoes, suits, bags, dresses, books, some school supplies, bar soaps, and even a room of kid's clothing!! I thought that was really adorable and heartwarming, who would've guessed they had kids' clothing in the teen's closet?
The person that's in charge of the teen closet is Teresa Luna, but Joan Taylor is the Assistant Program Manager of the teen closet. The whole reason why they have a teen closet is for kids that need it or don't have access to these items.
The network basically provides these items to families, single parents, or undocumented families, basically for anyone who's in need.
I asked her if I could interview her and she was pretty hesitant, in the end, she agreed. However, she immediately asked me to help her clean up. So I was hanging hangers when I was there, I'm not complaining though, besides I got to interview her.
Originally she was a volunteer working at a children's research network as a part-time job, but then eventually she started working there as an assistant manager of the teen closet.
"I love working here, the students are so nice, and I especially love helping so many people. It's also nice since we keep the clothing from going to the landfill- people just throw away their clothes in this way they're getting a second life," said Joan Taylor.
I found out that other schools happen to have it, such as Arroyo Grande and Nipomo Highschool. They go shopping during lunch or break. Nipomo high school opens on Wednesdays, while Santa Maria Highschool opens on Tuesdays. They help out about 30,000 students each year.
You might be questioning how they receive these items, they're mostly donated. As in for SM high school, we receive them in bags. And in those bags, it has labels, that say, "baby clothes, boy clothes 6-9 years old."
Everything in there is literally free!! You like that brown Nirvana shirt or that kid's book? Then take it, it's yours, there's no need to be embarrassed. At the end of the day, they're just clothing.
It's also helpful, if kid's happen to fall in the mudd or an incident happens to them. They can come in the teen closet, and get anything they need." Said Joan Taylor.
I asked her if kids often come in the teen closet, and she said they do just to check it out or take clothing.
If you want to check out the Teen closet, it's always available every Tuesday, but you could arrange an appointment when you want to check it out, you just have to send Teressa Luna a message.