Welcome New Teacher, Tara Huseth!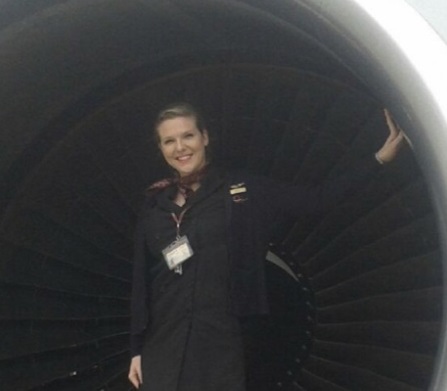 Let me introduce you to new teacher, Tara Huseth to Santa Maria High School. This is her eighth year teaching, but her first year here. Before going into teaching she was an international charter flight attendant. She has traveled the world taking military troops anywhere they were deployed, all around the world. When asked, she said her greatest professional accomplishment was "when I was a flight attendant, I had the absolute privilege and honor of bringing troops home after war back to U.S soil." When asked why she had left this job, she stated, "after 11 years in the aviation industry I wanted a lifestyle that enabled a family and a homebase. I am now very happy to have both."
After leaving the charter airline industry, she started her teaching career. She already had her bachelors degree from the University of Memphis (she had started college at Chico State then transferred), but she still had to get her teaching credential. Ms. Huseth got her special education teaching credential in Texas. She has wanted to work in special education specifically because of how she saw other countries lacking opportunities for their special education population. When asked about her strengths as a teacher, she said she hopes her students would say that she is patient and understanding. She likes the co-teaching model here at our school and says, "I get to work with an awesome group of teachers and I get to see how they all teach our students in different ways."
Ms. Huseth said her department here at Santa Maria High School has been very helpful and welcoming; she feels like she is a part of the team. She has lived many places, and when I asked her why she moved back to California after so many years away, she said, "to raise my son near family and have him grow up on the beautiful central coast."
She has a lot of patience and that's what makes her a great teacher and a great person. I hope she enjoys her stay her at SMHS!