Looking Forward: Mrs. Draper Retires
Mrs. Draper personifies our motto: "Once a Saint, always a Saint!"
At long last, and after decades of thriving on this campus, Mrs. Karen Draper is turning in her classroom keys for the last time.  Her journey at 901 S. Broadway began, not as a teacher, but as a student when she stepped foot on campus as a freshman in 1967. Over the years, Mrs. Draper, her husband, and both of her children graduated as Saints.  Her daughter was her colleague at one time, where they were also nextdoor neighbors in the 200's.  Mrs. Draper said, "This is my alma mater, where I met my husband, the school that both of my own children graduated from."
We caught up with her to ask her what she plans to do now that she doesn't have to plan her day around our bell schedule.  This is what she told us:
what's next? How are you planning to spend your days now that you won't have to go to work?
In my retirement I am hoping to become a CASA advocate which is a court appointed advocate for students in the foster care system.  Early in my teaching I saw this turn around the future for one of my students.  I am hoping it will help fill the void without having students daily.
"
I have been blessed to have spent all 30 years of my career teaching at Santa Maria High School. This is my alma mater, where I met my husband, the school that both of my own children graduated from and my home Monday through Friday since 1993.
— Mrs. Karen Draper
How long have you been in education, and how long have you been at SMHS?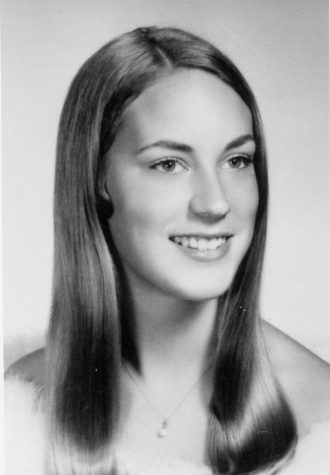 I have been at SMHS for 30 years.  I subbed for 6 years in my younger years before working full time in business management.  I came back to teaching in the early 90s.  Sometimes I wish I had been teaching more than the 30 years I have, but I wouldn't have had the business experience to bring into my classroom which is what I teach.
what's your most vivid memory about being a teacher/staff member? (It doesn't have to be a good memory, if something really stands out to you)
One of my most vivid memories was in the early years of teaching and I had a student named David who came to class every day with his pants sagging and his boxers showing.  Every single day I would remind him to pull his pants up so I didn't have to look at his boxers and on the last day of class he pulled them down and turned around to moon me (with his boxers on of course).  It was so hilarious and all I could do was laugh.  Sometimes you just have to see the humor in things!
What advice would you give new teachers/staff members just coming into the field?
Make connections with students, show them you care, pay attention to their demeanor, their mood, their actions.  Usually when a student misbehaves you need to look at the back story; there is always a story that is behind the behavior.  Show your student you personally care about them, show them kindness even when sometimes it isn't warranted.
What is your favorite memory from when you were a student at SMHS?
My senior year I had Senior Home Living and my husband was in the class; we were routinely a couple minutes late walking across campus to class in the Home Ec. Building while talking and getting to know each other more.  However, my memory was from my Senior Prom.  I went to prom with my boyfriend that I had been dating for two years.  The last song of prom night my husband asked me to dance (we weren't even dating at the time) and I danced with him.  At the end of the dance, he kissed me.  It was all over after that.  Within a couple of weeks I broke up with my boyfriend and my husband and I went on our first date June 26, 1971.  We have been together since then.