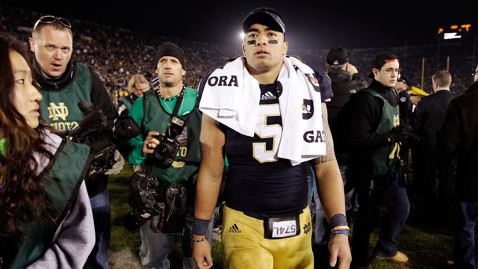 The Girlfriend That Didn't Exist
Untold: The Girlfriend Who Didn't Exist is a new two-part documentary series on Netflix that retells and goes more in depth on one of the most bizarre stories in college football history.
The documentary follows Manti Te'o and is essentially a biography on him as we see his early years, his rise to college football fame, and of course what led to the infamous scandal. This documentary throughout is very entertaining as it really goes in depth on not only his life, but also his being a great leader and good role model. This documentary also does a tremendous job of keeping you entertained and intrigued about how everything came to be. What also really makes this documentary great is the fact that it really tells the events and happenings very well throughout the whole entire two episodes it runs.
Now to say this is a close-to-perfect documentary is not a lie but it does have its few cons, such as the final minutes. I would've liked to see how his life came to be after the infamous scandal such as where is he now and did he find another relationship? another problem I have is not necessarily with the documentary but with Manti Te'o himself, how can one be so gullible.
Now, I'm not trying to throw shade because I kind of understand. This documentary went really in depth into him and his character and of that he was known to be a very nice and dependable person so obviously it is in his nature to be nice, patient, and understanding, but this doesn't excuse the fact to have a right to question things! Again not trying to throw shade at him (because we would've never gotten this awesome documentary) but maybe this can be a lesson to everyone and teach them to not be so gullible and just straight up dumb.
Stepping aside from that I firmly believe this to be a must watch if you're into documentaries, football, or just like really juicy and interesting stories, as well as it's a great watch if you're bored.
Overall I would give this two-part docuseries a solid 9 out of 10.