SMHS Alumnus, Junior Varsity Defensive Coach, and Saint, Frank (Paco) Villa Dies.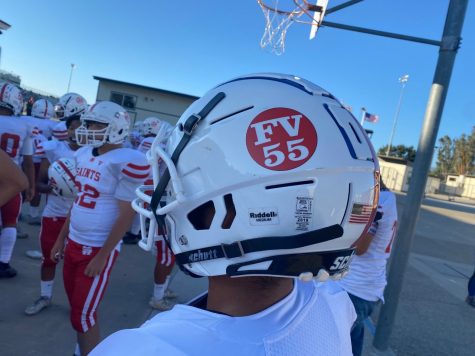 Francisco (Frank) "Paco" Villa has died.  Paco, as he was known to the people closest to him, lost his battle with COVID Friday, September 10, 2021. He was 25 years old.
Villa graduated from Santa Maria High School with the class of 2015, and had recently come back to campus as a Junior Varsity football coach and security staff member. "Paco was always there, always upbeat, always worked hard, and was always a team player. He took good care of his siblings (younger brother Luis, and younger sister, Litzy) and watched over Luis with great pride. He was an awesome human being. It was an honor to know and coach him. He will be greatly missed," said former football coach, Corey Costanza.
His team was all notified of his death via the app Huddle during the school day, and they were asked to gather as a team to mourn.  Administration set up a place for all of them to come together with counselors and coaches there to help the kids process their loss.  "I didn't know him as well as the others, but he was a kind and caring person. It was overwhelming to hear the news," said senior Jacob Nava. He continued with saying that the vibe among the team right now is good. "there is a lot of love and support with each other, especially coaches.  I know Coach Villa always had our backs no matter what and we adopted that vibe."
One thing Coach Villa told the boys at football camp this past summer is really sticking with them now to help them through their grief and loss. He said to them, "I know I just got here, and I don't know who you all are, but I already love you guys." That memory is bringing comfort to his team.
Cousin and family spokesperson, Daisy Ferreyra said on his GoFundMe page, "Paco was a bright spark in this world and will be deeply missed. His energy touched the lives of so many & he truly was the change this world needed. Paco had an immense heart & it's safe to say he took a big place in many of our hearts. Unfortunately, the battle against COVID was lost, but we believe God keeps the righteous under his protection. Nobody is ever ready for moments like these but Gods plan is ALWAYS PERFECT. We live in tough times right now so, take the time to tell that person that you have not talked to that you love them & keep anger to the side."
Updates from his GoFundMe page state that, Frank's memorial service will be held on Wednesday September 15th between 3pm — 8pm at 2360 A St Santa Maria Ca 93455.  Face Masks will be required."
Principal, Steve Campbell, said, "To say that Frank will be missed is an understatement as he was known and admired by many of our students as well as our staff."