Annual Elk Rodeo Parade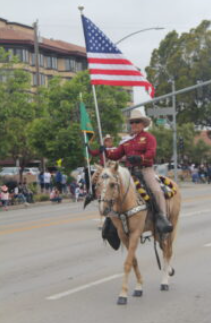 On Saturday, September 4th, 2021, at 1000 East Mill Street, the Future Farmers of America (FFA), the Junior Varsity and Varsity Football teams for Santa Maria High School came together to help participate in the annual Elk Rodeo Parade.
The parade allows local nonprofits to raise money for their organizations. In addition to this, a program named "The Golden Circle of Champions" raises thousands of dollars for families fighting cancer.
This event has been happening for over 75 years and manages to continue because of its wonderful sponsors!
Some of the helpers from SMHS thought there were a few things that could've been better. Sophomore Augustine Ruiz, player for Junior Varsity, said "It was all right; I think it could've been better if there were more kids helping. It just felt like every other school had more participants than our school did."
Giovanni Gaytan, an FFA helper, said, "It was fun. It could've been better if there were more things to represent our school. Maybe more posters or something."
During the Elk Rodeo Parade Santa Maria High School brought their tractor, they decorated it with posters, rectangular hay bales, which were used as seats for a few students and staff, and a big wooden sign on the back of the tractor.
We did great this year for the amount of people we had. Hopefully you or someone you know will be there next year to support us at the Elks Rodeo Parade.