The 10th Annual Latinos Unidos Conference!
This past Saturday, the Santa Maria Joint Union High School District students were invited to the 10th Annual Latinos Unidos Conference held at Righetti High School. The theme was Breaking Barriers (Sí Se Puede).
The planning of the conference began in November to the time around the event, which was about four months. SMHS Spanish teacher, Paola Ferreira, mentions how "Students came up with the ideas and it was completely student-led. They also put work in their own time to make this happen."
Feirrera was in awe of the team in how open they were, how they respectfully voiced their opinions in disagreements, and how they resolved the situations. Every meeting they had was organized and a safe space was created where students could voice their opinions too. Serious topics were brought up that dug deep into their hearts.
Students were provided with breakfast and a shirt upon entrance. The logo and the shirts were designed by the students.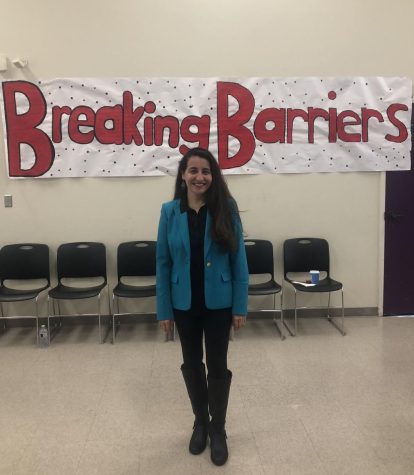 About 50 minutes into the event, Keynote Speaker, California State Senator Monique Limón, took the stage and began her motivational speech about her journey into higher education and making changes in the community. "I was able to hear her speech and I think it was very amazing. I think it also opened doors for more events like this in the future and many plans for students," said Ferreira.
Next was the choice of choosing of the following workshops included: "It Didn't Start with You," "Finding Happiness," "Healing Circle," "Be the Change," "Seeking for Help," "Planting the Seeds to Your Future," "How to Get Hired," "There's an 'I' in Identity," and "Preserving Stories – Creating Documentaries that Uplift Your Community." Each of the workshops was presented and worked on by student leaders who volunteered from the different schools. For example, SMHS students were asked through Spanish Honors Society members. "It was a really rewarding experience to see them as a unity instead of seeing them as rivals," said Ferreira.
Lunch followed with tortillas, rice, beans, and a variety of meats. Entertainment was held by Josue Hernandez who engaged and sang around the tables. He was among the top three choices for entertainment. Students were responsible for contacting Hernandez and planning.
Lastly, certificates and tote bags were handed out to the student leaders and teachers. After, a raffle was held for goodie bags and tote bags.
Latinos Unidos Club President and a senior, Susana Espinoza, comments, "I'm so happy today. It's so incredible how we were able together in the community. Not only in the conference itself, but the planning and building part of it too." Espinoza has been the president for three years. She has experienced the online conference, but not the in-person conference for almost four years. When asked about the most meaningful part, she replied, "I was able to do it not only with my friends but people that I've been surrounded by for four years, with people that share the same aspirations and goals of unifying.
It was raining the day before the event and this was a concern for what was to come on the day of the event. Everything turned out better than expected even with the many variables of problems.
"I would like to thank the students for their hard work. They have their own life outside of school, but they were able to pull this together," added Ferreira.
Based on this event, the next conference will have improvements on what to include, so look forward to the next Latinos Unidos Conference!