SMHS Seniors Take On Multiple College Trips
"College Trip South 2022" was an experience for our local seniors.
More than 50 Santa Maria High School seniors recently spent three days touring nine universities including USC and the Fashion Institute of Design & Merchandising in downtown Los Angeles during the first annual "College Trip South 2022."
The Saints experienced a variety of campuses, from private to public, ranging in size from 3,000 to 45,000 students and staff. They discovered major options, learned about student life, tried to envision themselves on campus, and evaluated each institution to determine if it was a good fit for them, per SMHS College and Career Counselor Erica Martinez.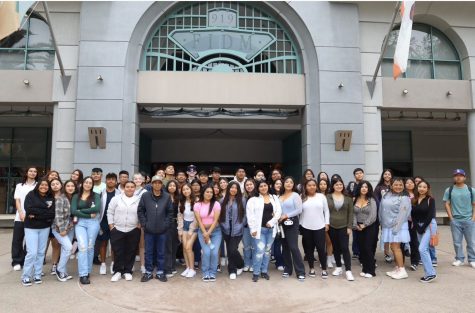 "Thank you for trusting us and allowing us to explore something new." – Oralia Agustin Gonzalez 12th grade.
"I liked how all the campuses had different types of environments." – Lupita Tovar Marquez, 12th grade.
"I could see the transformation from students being unsure to being empowered." – Mrs. Christy Reasner, College & Career Counselor.