Don't Panic -13 Lives
You cant panic. Lives are at risk.
Thirteen Lives is a 2022 U.S. biographical survival film based on the true story of thirteen people who got stuck in a flooded cave in Thailand in the summer of 2018.
 I personally don't like films based on true stories, because they tend to usually go over board with scenes added for dramatic effect, however this film was just about perfect with the dramatic scenes. I personally loved the story telling and the way they moved the story along, it didn't feel like they dragged on too much. The film dives straight in to the chaos and thrill of the movie.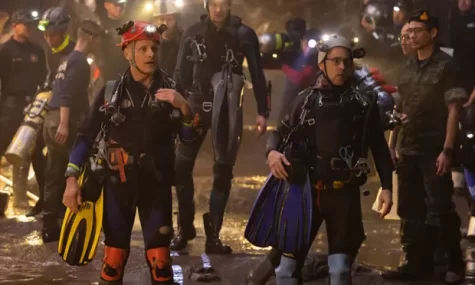 When you cant tell if the cave they used was real or fabricated, is when you know you did something right.
The underwater cinematography (by Sayombhu Mukdeeprom) was spectacular, it made you feel like you were there at the moment experiencing it too. It played an essential role in making us gasp and possibly know what claustrophobic feels like.
The story itself is already full of action and was extremely suspenseful. Even if you know its' a film, you still feel intense and stressed while watching it. It felt like my heart was racing a million miles a minute when I watched certain scenes. Which makes sense because the acting and scenery in this film was phenomenal.
There are so many risks in to making a real story in to a film as you need to remake that feeling of worry that the people there felt and went through and I think they did an amazing job portraying that through the rescuers point of view.
Some things I do wish they had done was show more of the boys. We saw how stressful it was for the people to try to rescue them but we didn't see what they had to do or deal with in there, not knowing if they would die or not.
Overall I would rate this a 9/10 film and I would definitely recommend to people.