March of the Saints Returns to Usher in the 2022/2023 School Year
After a two-year hiatus, clubs, sports, and alumni encourage and promote involvement.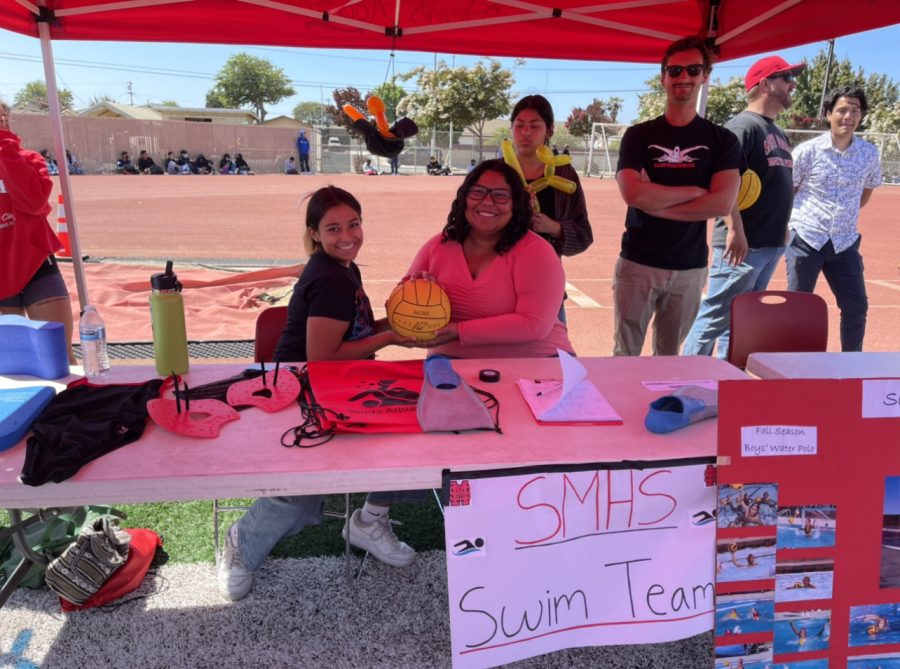 Typically, our school year begins with a first Friday event – March of the Saints – in which clubs, organizations, sports teams, and alumni come together on the football field to encourage involvement and excitement about being back to school.  Because of COVID, our school's MOTS was put on hold, but this year, it's back!
Students and staff were invited to come out to the football field and learn about our school's different offerings. Some of the sports booths out there were girls wrestling, cross country, water polo and swimming, boys and girls basketball, and football.
Clubs and organizations were also encouraging students to get involved and participate. Senior Ennaira Torres stated, "I think that March of the Saints is a great way to get new people to join our choir program and help it to grow," noting that this year, there are no scheduled choir classes in the Fall semester. There was also a fun screw-driving contest at the AG department booths.  Ag teacher, Mr. Guerra, explained, "the participants were given proper PPE (work gloves and safety glasses), as well as an impact drill. The challenge was to loosen a board from one side the table and then anchor it back on the opposite side of the table with the screws.  This was a timed event in which the fastest times were recognized and awarded.  The winners were: Gustavo Martinez with a time of 43 seconds and Johan Marcial with a time of 46 seconds."
There were also several alumni who made a return to their alma mater who have gone on to lead successful college careers. Class of 2020 graduate and current UCLA Junior, Cristian Ramirez, liked that, "there's a lot of students that are getting the opportunity to explore their different interests and asking questions [so] that they know what they want to do during the school year." He was also able to tell our current students about his college experiences at UCLA.
All-in-all, everyone felt like the return of the March of the Saints was a good experience.