FBLA's State Leadership Conference Brings Home Four Winners
Congrats go out to Jaleel Madison, Nashali Vicente, Dianna Jimenez, and Yosuni Rodriguez
Twenty SMHS and six PVHS Business Leaders of America (FBLA) members represented the Santa Maria Valley during the Gold Coast Section Conference at the State Leadership Conference in Ontario, CA.
The Saints and Panthers participated in various business and financial, entrepreneurship, and software systems development career pathways to qualify for the National Leadership Conference in Chicago Illinois – June 28 to July 2, according to SMHS Teacher and Advisor Cindy Quaid. Saint Teachers Alejandra Fulton and PV Teacher Sandra Sylvester joined Quaid.
"
This was an unforgettable conference, especially since four of us placed in the Top Ten in our skill event competitions."
— Dianna Jimenez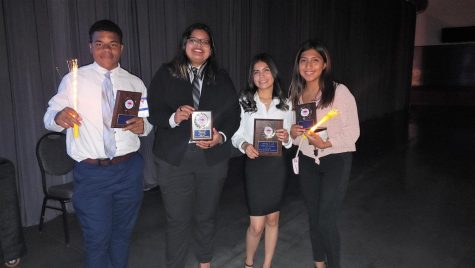 The event, which was live for the first time in two years, involved 1,700 FBLA California high school students. Students also had many opportunities over the course of the conference to attend leadership workshops, listen to inspiring keynote speaker Bill D. Cordes, network with other members and observe student performance competitive events.
"My favorite experience from the FBLA conference was networking and having a good time with the other FBLA members; I only wished I would have joined sooner." – Jaleel Madison, 12th grader
"My experience this past weekend at the FBLA state conference was great, I really enjoyed hearing the opening speaker, Bill Cordes, and his acronym 'YOGOWYPI –You Only Get Out What You Put In.' I had a great time with other members, and I had the opportunity to network with other students from across California." – Virginia Martinez, 12th grader
"Since it is my first year in FBLA, I had an amazing experience attending the State Leadership Conference. I got the chance to watch students from all over California compete through objective tests and performance events. This was an unforgettable conference, especially since four of us placed in the top ten in our skill event competitions. I can't wait to go to attend NLC and next year's conference and compete again!" – Dianna Jimenez, 11th grader
"The FBLA state leadership conference was a great experience with all the new people I got to meet from all over the state. The conference really opened up my understanding of people, myself, and business.'' – Armando Cruz, 11th grader
Results of Santa Maria High School FBLA Members who placed in their competitive events:
*SMHS was recognized as an Outstanding Chapter for their accomplishments of modeling the ideals of Service, Education and Progress. They were also recognized for their participation, contributions, and completion of the March of Dimes Chapter Projects where they collected and donated $630 to the March of Dimes.
*Seventy-nine students completed the Financial Literacy Individual Project and earned a digital badge and pin. The project shows demonstration of financial literacy.
Yosuni Rodriguez (12th grade), Computer Applications – 10th place
Nashali Vicente (12th grade), Computer Applications – 9th place
Jaleel Madison (12th grade), Word Processing – 4th place
Dianna Jimenez (11th grade), Word Processing – 2nd place
Dianna is now eligible to compete and represent Santa Maria High School and the state of California, in June, at the National Leadership Conference of the Future Business Leaders of America in Chicago, Illinois.
Update: As of May 12, 2022, two more students were moved up and can compete at nationals. Apart from Dianna, Jaleel Madison and Nashali Vicente were moved up and we will be joining Dianna Jimenez at Chicago for the FBLA National Leadership Conference this summer. They will not just be representing Santa Maria, but also representing the state of California.