Ketanji Brown Jackson, nominee of the Supreme Court
Judge Jackson has been nominated to serve at the Supreme Court.
On February 25th, Ketanji Brown Jackson, American attorney and federal judge, was nominated by President Biden to be a justice associate on the Supreme court. She is the first black woman to be nominated for a high seat on the Supreme court. If she becomes a part of the Supreme court, she would be replacing Justice Stephen Breyer, who is our current Justice associate of the Supreme court and will be retiring at the end of this session.
Ketanji Brown Jackson was born on September 14th, 1970. Ketanji Brown Jackson has been serving as a judge of the U.S District Court for the District of Columbia (Washington D.C.) since 2013-2021. She got a new office as the judge for the U.S court of Appeals, in 2021. It has been almost a decade now that she has been a judge.
She will make history if she wins the position as the new Justice Associate. The hearings for the confirmation of Ketanji Brown Jackson for the Supreme court are still happening. She already has six takeaways from the hearings of the supreme court for confirmation.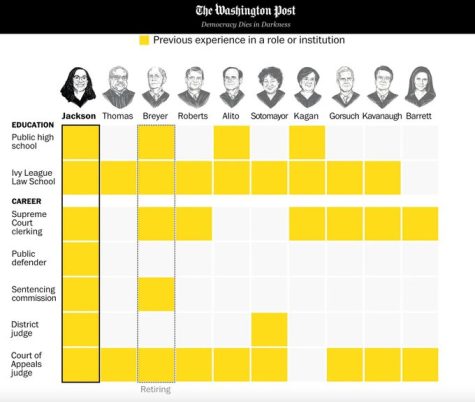 To be able to win the position and become the new Justice Associate of the Supreme court, Ketanji Brown Jackson needs 50 votes in the US Senate. However, Judge Jackson can receive her confirmation with 50 votes with a deciding vote from Vice President and Democrat Kamala Harris, who serves as president of the Senate. On April 4th, Ketanji Brown Jackson will go to the Senate Judiciary Committee for a vote.
Ketanji Brown Jackson will likely be our new Justice Associate for the Supreme court, and she will make history if she does get the position.