Girl's wrestling and their fantastic performance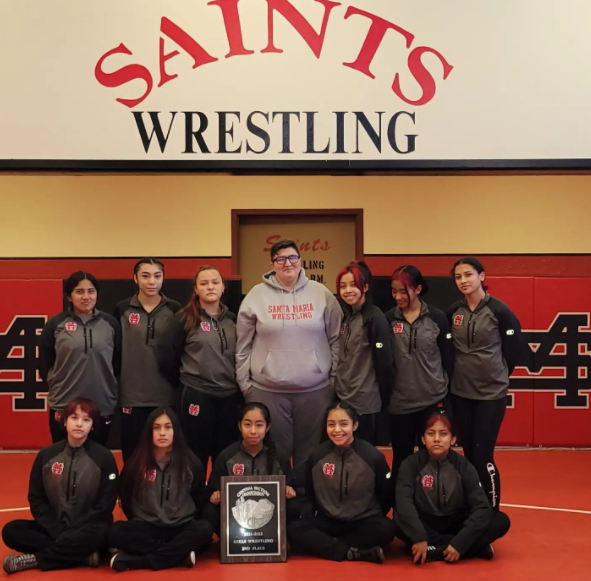 Girls wrestling, this is their third year in a row that they've dominated, in 2019 and 2020 they were league champions, and this year they were central section masters runners up, only losing out to PV. They were CIF champions in 2020 and in 2019 they were central section masters. Our girls wrestling is one of the top teams of the section, not just their division, there is approximately 100 schools that try and for for #1, so being #2 is very meaningful. This year 4 of the SMHS wrestling team girls made it to state, and out of all of them junior year Sophia Ramos did her best going 2-2.
I asked their coach, Mr. Torres, a couple of questions about his thoughts on wrestling and he had a lot of positive things to say about his job. He started off by going to wrestling practices and tournaments to encourage his daughters, after a while Mr. Torres began to love wrestling as a sport, and then he found himself coaching the sport in 2014. He also stated that "It is rewarding to know that all of our hard work is paying off and I'm proud of everyone I've coached." He's stated that it "helps instill discipline and hard work" which is one of the many reasons he loves teaching the sport and that he'll coach for as long as he possibly can.
I asked Lucia Santos, one of the girls that made it to the state tournament, a couple of questions about wrestling and her opinion on it. She told me she started wrestling her freshman year after her brother had encouraged her to join, even though she was thinking of joining other sports. Lucia has told me wrestling is life changing, tough, but it does help you become a better version of yourself and it helps you achieve your full potential. It is both mentally and physically challenging, which she likes because she gets to look forward to all the progress she makes. Another part Lucia likes about wrestling is how it helps the girls wrestling team bond and the coach is very supportive and positive. Lucia loves wrestling, making it to states makes her feel motivated, and a little more fulfilled, since going to states was one of her goals. She does however want to do better, she also recommends wrestling, and that she only made it because of her sacrifices and hard work ethic.
Araceli Ramirez also took on the task of answering the questions. She started wrestling in the summer of her freshman year, after she was inspired by her brother and a friend of hers, so she didn't get the full experience during her first year, but she has continued wrestling into her senior year, she never thought she'd get this far into wrestling, and let alone love the sport as much as she does today. One of the many things wrestling has taught Araceli is that she must sacrifice things in order to succeed, this has helped her gain a love for the sport, she learns, she grows as a person, and it's enjoyable because wrestling is focused on each individual's achievements even though it is a team sport, this is because of the way that matches are run. Wrestling helps people gain confidence and independence because it's a tough sport, this is one of the things she loves most about the sport. The thing she loves most has to be the bonds she builds with her team and the coaches along the way. Araceli made it to 2nd place for the CIF Masters, she doubted herself as she had just recovered from an injury, but in the end she did pull through, did her best, and qualified for the state championship with 3 other girls. She is enormously proud of herself and really thankful to both her coaches for being really dedicated and their motivational words.
The girls wrestling team is really good and will hopefully have a dominating performance for a long time. I hope Coach Torres can get more people excited and hyped for girls wrestling, as their performance the last couple years have been phenomenal, and don't forget to cheer them on in any upcoming events.