FFA week and its nigh over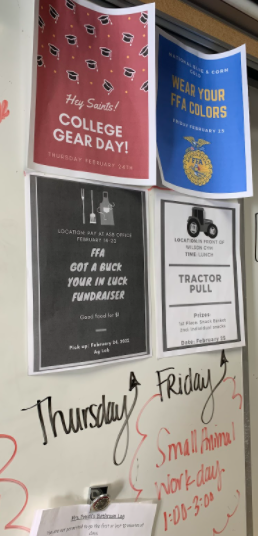 FFA Week is a national week of the year where people in the FFA (Future Farmers of America) celebrate and do fun little events.
The FFA Week began on Monday with the 5k run. If you participated in the 5k you got free FFA things such as clothes, and other items that have day-to-day uses. The 5k run started at 9am and ended at around 1pm.
On Tuesday it was mismatched clothes day; for that you would wear things that you usually wouldn't wear because they don't match, kind of like crazy socks day but for your entire outfits instead of just your socks. During lunch there was an event called "What would you eat for 20 dollars?" An easy way to explain this is, you had to eat random things people make in-order to get 20 dollars, they made both drinks and food with random foods such as, mayonnaise, sardines, sardines juice, etc. If you completed a certain amount of rounds after eating all the weird combinations, you would be awarded with 20 dollars.
On Wednesday during lunch we had many events with other schools in the area and we competed in games against them, these included dodgeball, tug of war, and a couple other games. Overall SMHS took the trophy home of winning most of the games. Wednesday was also western wear, for this you had to wear western clothing, we also had an obstacle course during lunch.
Thursday the FFA had a college gear day, you basically just wore items from colleges and universities that you had. Also from February 14th to the 22nd you could donate a dollar, get a receipt, at the ASB office and get food during lunch at the Ag lab on February 24th.
Friday FFA will be having the tractor pull competition, where people and groups of people compete to see who can pull the tractor faster; This'll happen in front of Wilson gym, during lunch, and first place gets an entire snack basket, while second place gets individual snacks. On Friday if you want to participate a little more you should wear your FFA colors, which are blue and gold.