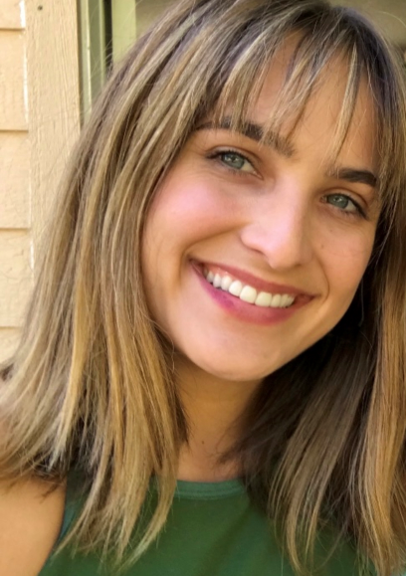 I present to you, Ms. Olney
Ms. Olney is a social studies teacher that is quite new to SMHS. I asked her a variety of questions this week, which she gladly answered, and I learned a lot about her. Hopefully this can help you get to know her better, or maybe it can help you think of a conversation starter if you want to talk to her.
As I previously stated, I asked her a few questions. I asked what college she went to and what school she's an alumnus from. She told me, "I went to UCSB for both undergrad and grad school and I am an alumnus of Nipomo High School." On that topic I also asked her if she's taught anywhere before this and if she's going to get more involved in school, aside from teaching, maybe join a club.  "I have also taught in Santa Barbara and at Arroyo Grande High School." said Ms. Olney, and "admittedly I am not athletic, so coaching isn't an option! However, in high school, I was active with FFA, so I would love to be able to help out with those events. Additionally, I would like to help out with other clubs that might pop up!"
I asked Ms. Olney if she had a different subject in mind, aside from social studies, if she always wanted to be a teacher, and if she's worked somewhere before teaching. She informed me that she entered a teaching credential program once she finished college; she also worked for a while at Lemos Feed and Pet Supply, at a wedding catering business, and that she's taught before at Santa Barbara and Arroyo Grande High School. Also, she noted that if there was another subject she could teach it'd be health because she has a Health Science credential.
Before she wanted to become a teacher, Ms. Olney wanted to work in the field of politics; she worked as an intern for Senator Feinstein, but she decided she wanted to teach about the governmental process. Ms. Olney still is passionate about equity in education and politics. Ms. Olney also loves to read. I asked her what her favorite books were, but she couldn't decide, although her top three favorite books, in no specific order, are Pachinko, Cutting for Stone, and Warmth of Other Suns.
I also asked Ms. Olney what she likes and dislikes about being a teacher. She told me, "similar to how I would imagine most teachers would respond to this question, I love working with students and building those connections. That is what makes this job worth it! However, I do dislike how time-consuming and demanding this career can be at times, and the difficulty to maintain a work/life balance."
Finally, I asked her if she had any advice for students who are going to apply to college and Ms. Olney told me, "As a first-generation college student, my advice would be to reach out and take advantage of any programs that help with the application process. It can be overwhelming to go in alone! Also, apply to EVERY scholarship that is offered. So few individuals submit applications and free money goes unclaimed!"