During the second week of school at Santa Maria High School, students and staff were enjoying their lunch break when the fire alarms began blaring. In the new building, the fire alarm was accompanied by a computerized voice directing people in both English and Spanish to evacuate.
At first, most people thought it was a false alarm, due to the large amounts of false alarms on campus in the past. But soon, they began to realize it was not an ordinary "false alarm" situation.
"
You could smell it all the way from the 600's"
— Nathan Ochoa
Eye witnesses report that at first they thought it was a spray paint can rupturing. "Then I noticed that the lunch line was separating from where the smoke bomb was coming from," says senior Rodrigo Garcia. Soon, students started evacuating once the smell became intolerable. "It smelled like fireworks," stated senior Nathan Gomez.
"You could smell it all the way from the 600's," said senior Nathan Ochoa, who thought it might be a firework. Within the cafeteria, some were fed up with the constant drama of the school year.  Employee Angie said, "Oh my God! We just started school and we already have this going on. Before the year ended last year, we were getting the lock downs, and now we start the year like this." But things ran smoothly, considering the unexpected event.
Story continues below advertisement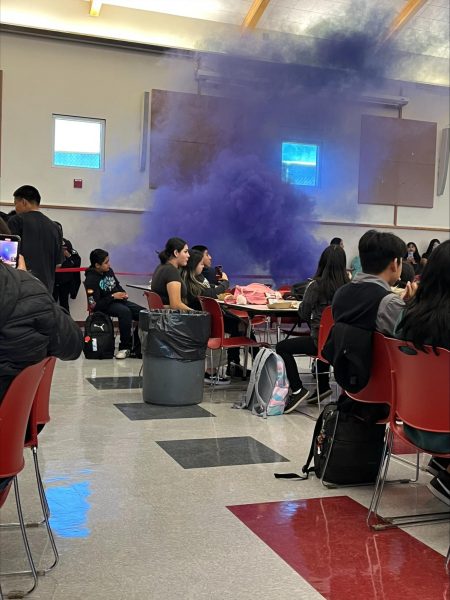 Two security guards quickly declared it was a false alarm, and radioed that information to the office. Mr. Campbell, our campus principal made an announcement over the PA stating that there was no fire and the cafeteria was closed, but we could go back to our lunch. Later, in a series of emails, he assured the staff that everything was fine and that the system would take a bit of time to reset.