Close Up, Washington DC club hosts voter registration drive
The spring fair was Friday, March 31st, 2023.
The SMHS Close Up Washington DC Club teamed up with the League of Women Voters of Santa Maria Valley and organized a voter registration drive during the Spring Fair on March 31st.
Students also learned about various political parties, demonstrated their support for social justice and equality with a selfie booth, and participated in a survey that asked the level of importance on varying issues.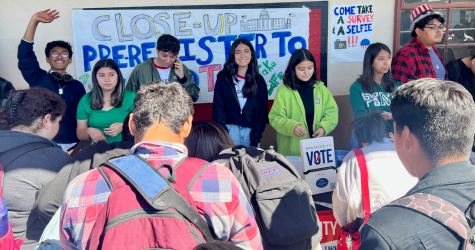 The results showed that the top issues of concern for students were as follows:
Free College 89%,
Free Healthcare including Women's Health 87%,
Social and Economic Issues 67%, and
Foreign/Immigration Issues 64%.
"While we were setting up the pre-registration drive, I thought that only a couple of people would come. But once it started, I was amazed by how many had showed up. I thought we had well over enough paper registration forms, but we soon had to switch to the online form. I had a lot of fun being able to help so many people become pre-registered to vote, and through the survey it was interesting to see what is most important to our peers." – Close Up Washington DC Club Member Kimberly Guerrero, 12th grade.
"I have some incredibly dedicated students in my club that helped to make this event a success. We had over 100 students register, and we ran out of registration forms and could have registered more. I am proud of how our students responded to the event and the level of interest. I am looking forward to continuing work on projects like this in the future with my club." – Teacher Amy Hennings.
"It was so inspiring to meet the wonderful Close Up Club members and see how organized and enthusiastic they were about pre-registering their school mates. When I saw the results of the Google survey and the stack of over 100 registration forms it confirmed my conclusion. This voter registration effort was the best one we have partnered with in Santa Maria for over 10 years!" – Virginia Souza, President, League of Women Voters Santa Maria Valley.
Club Advisors, Amy Hennings and Richard Guiremand, organized the event, along with Close Up Washington DC Club members and officers, and the League of Women Voters of Santa Maria Valley. Souza also helped with the registration process.