Saints Cafe
Imagine a morning with hot coffee, coffee cake, and teachers? Yes, you've read that right.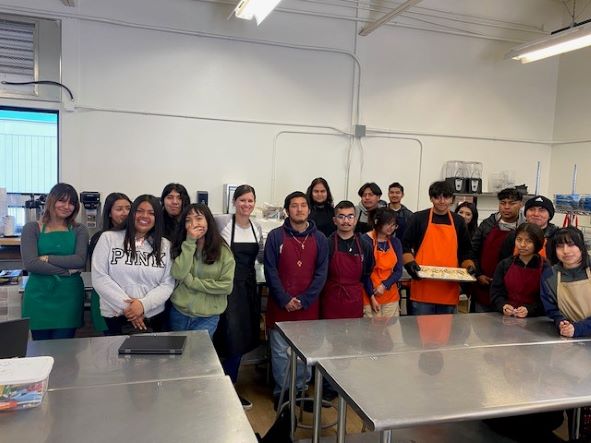 The Saint's Cafe has been around for quite some time here on our campus; for about 20 years the students have been serving and giving back to their superiors each morning with the intent on improving one's day to their fullest, and it couldn't have been possible without the founder and culinary teacher Kristin Hammond, who came up with the idea. We have her to thank for our morning coffee.
The students themselves run the kitchen for the most part and help each other when they can. Ms. Pearson, the culinary teacher who is currently running the program, provides ingredients to the students and from there they make everything from scratch. While doing this they also keep learning and improving each time. While there are many great options to choose from, the most recommended from Ms. Pearson and a couple of students would be the Coffee Cake as well as Chocolate chip scone. Everyone I've interviewed has told of their experiences and opinions about the Cafe, "just to make people happy," Lea claims "It's going well. It's a good experience for us." Fabian states, "so far, it's been nothing but positive comments," and remarks with a similarity of a relaxed environment and bliss.
If your teacher is feeling down or hasn't had a good morning reach out and make their day with the help of the Saint's Cafe, as always "Sometimes you need that little extra cup of coffee in the morning, and we can provide that" as stated by Ms. Pearson.