A Sweet Spot: Crumbl Cookies has come to town.
A new cookie shop has opened at the corner of Betteravia Road and College Drive.
Crumbl Cookies, a new franchise in Santa Maria, opened its doors in November.  The store is owned by a couple from Oregon who are in the planning stages of also opening up stores in Pismo Beach (April, 2023) and Paso Robles.  Area manager, Jordan Parmenter, also from Oregon, stated that it's one of more than 600 stores in the US, which have been opening for the past five years. "What makes Crumbl special is coming into the store and seeing the cookies made in front of you.  The people are fun; we welcome you in. It's a good invironment when you come into my store," said Parmenter.
There are several ways you can get your cookies: in-store pick up, curbside, and shipping, and delivery. They also have a weekly subscription option in the works, for pick up or delivery which will provide a discount.  There are two different menus you can order from: the rotating "flavor of the week" menu, which pulls from 800+ flavors, plus a catering menu that has up to 250+ flavors.  You can special order with a minimum order of 50 cookies. Simply choose from that week's menu with a 24-hour notice, or if you want something more specialized, they will need a few days' notice to ensure they have the ingredients on hand for your order.
Friday, January 27, the journalism class did a taste test.
We tried 6 cookies: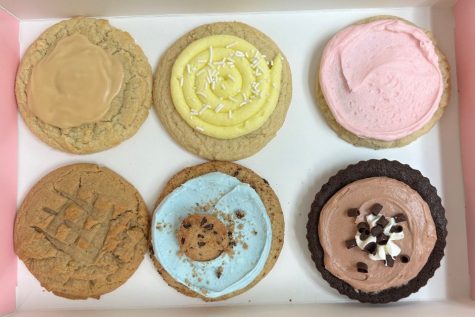 Classic Pink Sugar
Caramel Cake
Lemon Cupcake
French silk pie
mystery "blue monster" cookie
peanut butter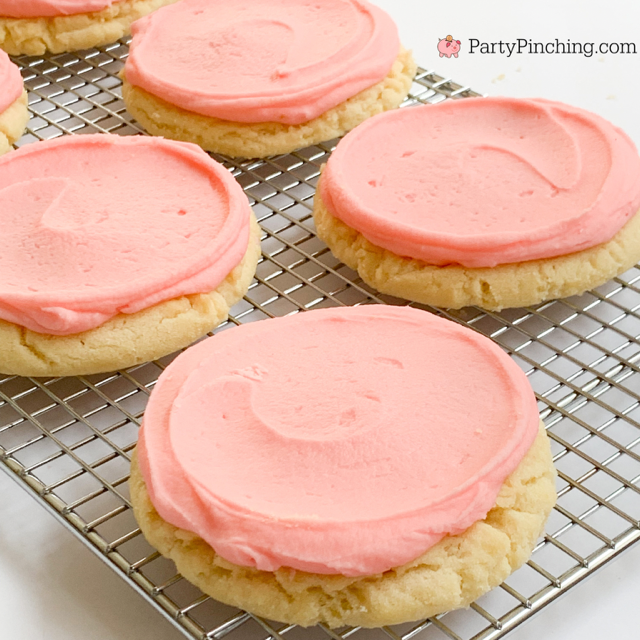 pink sugar– The look of the cookie reminded us of the iconic sugar cookies with the pastel pink frosting. The smell was also wonderful and gave you a wave of good aroma  The Pink Sugar had a smooth layer over the top. It offers a visually pleasing look with its thin frosting and overall design; the scent was pure sugar and sweet and the taste had a rough but soft appeal; it's similar to frosted sugar cookies, it was really soft, and the cream on it, was fresh. At first, it tasted like artificial cherry but then the taste was quite good.
lemon cupcake-  The cookie was cooked right, and it goes well with the type of frosting they used. it melts right in your mouth. The lemon cookie had a particular aroma of sweet sugary lemon and visually had thick yellow frosting on top with white sprinkles. It also had a doughy soft, thick and of course sugar lemon taste, the taste is a mix between chewy and soft. It smelled like lemon and sour cream. And it did taste like a lemon cookie; it wasn't too much, like it was a good combination of adding the cream on top.
French silk pie- The crust reminded us of most pies, like the name says. The frosting was a chocolate mousse – almost whipped cream texture. It was too much chocolate for some. Overall, a great cookie as it was very mushy, very chocolaty, very eye appealing too, very soft and the little cream on top makes it even better. It was a brownie cookie with some cream on top which makes for a great cookie. It was soft and had a good texture.
Caramel cake-  "I don't usually like caramel but I actually quite enjoyed this cookie." – Brenda Guillen. The first bite was very sweet but then it was kind of salty, which was appreciated. It balanced each taste very well. It was a bit dry and had a very bland look with a yellowish cookie looks and a slab of Caramel on top. Not too mushy but very soft, a nice, sweet flavor, kind of melts on our tongue and overall, a good cookie. This one is great if you love caramel.  It also smells like caramel.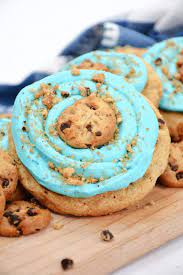 Mystery cookie- Overall, a very good-looking cookie as it featured blue frosting over the cookie. The flavor was more reminiscent of cookie dough, as it was very mushy and was a very messy cookie to eat.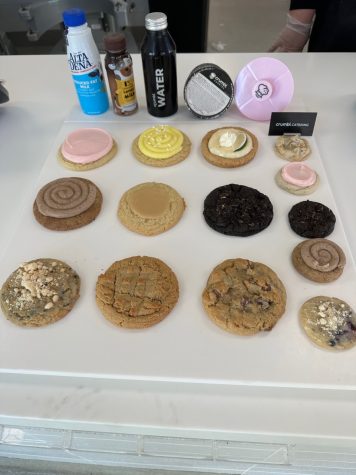 Overall, the class enjoyed the cookies.  When deciding where to spend your hard-earned dollars, it's important to consider the price.  That said, it's a good choice for people with a sweet tooth. Prices are as follows:  For catering, the mini cookies start at $1.50+50 (min)=$75. Full size cookies start at $2.55/cookie. The more you buy, the less it is per cookie.  can find Crumbl Cookies near the new Chipotle and Aldi, on the corner of Betteravia and College.