Holiday Performances
the guitar orchestra and choir gave our campus a great performance to celebrate the upcoming holidays.
They performed on December 3, on a Saturday day around 11 am at the Ethel Pope Auditorium.
We had the Choir perform first and got to hear the Guitar Orchestra play for us!!
Evelyn Quintanar (a freshman) was part of it, it was also her first time performing!!
They performed, "Deck the Halls," "What a Wonderful World",  and "Silent Night."
Well since it was her first time performing, we would know how it feels to perform or present in front of your classmates, it's nerve-wracking!
"I was really nervous- I did take a peek like when I was behind the curtain. In how many people were out there and there was a lot of people." said Evelyn Quintar
I asked Evelyn if she found any songs hard to learn she said it was deck the halls and wonderful world since she'd get the words mixed up.
As for the guitar orchestra, it took them at least 2 months to practice the songs. I asked Edgar Flores Ortiz if he found any songs hard, and he said it was the Nutcracker. Since there was a specific tune they had to switch notes really quickly and keep on time.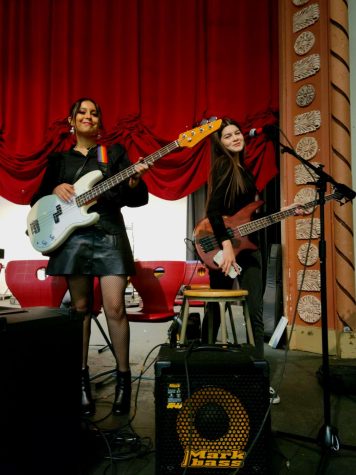 I told him out of all the songs they performed which one's did he like the most, and  he said it was, "Sakura." Since his teacher and his classmates loved that song.
I also asked Edgar how he felt during his performance, and surprisingly he said this
"I wasn't really nervous because I have peformed before, with the same class. So it wasn't really new. It was nice though, it was comforting, kind of with my classmates around me. But overall it was a normal experience,"- Edgar said.
A fun fact, he started learning the guitar when he was 10 years old!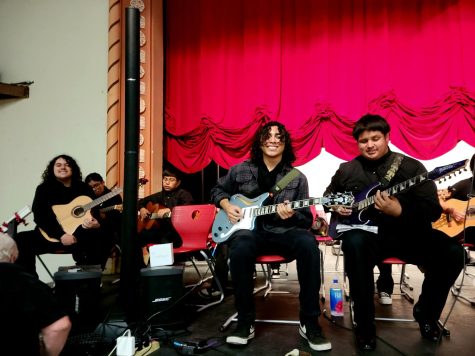 Will they be performing again? Yes, definitely, for sure next year during winter break no doubt unless another outbreak hits, let's hope not.