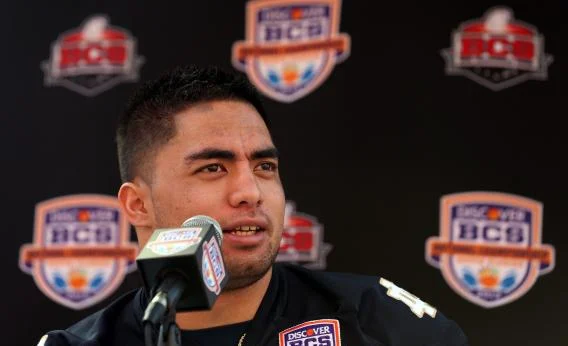 Photo by Streeter Lecka/Getty Images
The Fake Girlfriend Who Almost Ruined the Life of Manti Te'o
Imagine talking to someone online who became part of your life but it turns out that person never existed. This is the story of Manti Te'o.
When you think about worldwide connections you think of friends sharing their culture with people around the world however, that didn't happen with Manti Te'o. The story of Manti Te'o is a sad and controversial topic.
It all begins with a friend request from Facebook when two young adults meet. During this time Manti Te'o was beginning to take his football career seriously and he would have never expected the life ahead of him would be in jeopardy. A few weeks after Manti Te'o arrived at Notre Dame in Indiana, the native Hawai'ian was culture shocked and couldn't get used to the environment, he felt alone in this new world and out of touch with who he was. That was when he met "Lennay Kekua," a very religious girl just like Manti. They connected through small talk, but as time went on they started to chat more and more, leading to Manti being romantically interested in this person who was caring and relatable but he knew close to nothing about who she actually was.
Manti had mentioned Face Timing or meeting up, but something always got in the way. This should've spiked some questions but he didn't doubt Lennay or so who he thought she was.
During this time, the person behind the made-up Facebook profile knew they were in a difficult situation. To help remedy the mess they'd gotten themselves into, they went with an immoral "solution."
On a gloomy Midwest morning Manti received a call from his parents in Hawai'i informing him that his grandmother passed away. This put a heavy burden on him. Later that day he got a call from Lennay's "brother" telling him that "Lennay had passed." Losing two people dear to him would lead to Manti having more motivation to keep playing football, dedicating the season to them. That dedication would lead some to question if he himself was involved in the fraud. What happens next is something we might only expect to see in works of fiction, not in real-life events.
In my opinion I think Manti should've investigated more into who he was talking to and while I m aware he did many attempts and was respectfully of them. But in all honest the problems could've stopped if he  continued to persist into finding out if this person was even real. Another I'd  lie to add is he is also at fault for what happened since he suspected it but didn't continue it on however most of the fault falls within the person behind the fake account and should've been help responsible for what happened to Manti because it almost cost his career. In my opinion the person behind the fake profile should've been arrested for identity theft and also there were some loose ends in Tao's head since he really thought Lennay died which should count as some form of misconduct. Overall the story I've reviewed was a great one but It could've stopped earlier.