Human of our School: Dale Harris
SMHS alumnus, Dale Harris, went MIA during WWII
Dale Harris, a Santa Maria High School alumnus, was a WWII pilot who was just a few years out of high school when he went MIA (missing in action) on or about June 17, 1944, according to the Missing Air Crew Report.
According to the USAAF Class Book Research Project, a nonprofit organization based in the Netherlands that works to match portraits with the KIA/MIA crew members lists, he was in a P-47D (Republic P-47 Thunderbolt fighter aircraft) that was shot down by flak during the bombing of the French chateau in Normandy. The area where it crashed was Barneville-Carteret.
"
Dale Harris is still considered missing.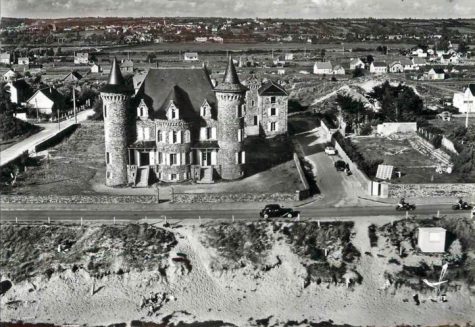 According to a USAAF Facebook post, researchers "…found information on the battle to liberate Barneville-Carteret, 19 miles south-south-west of Cherbourg. This battle took place on the same day 2Lt Harris went missing in action."
USAAF believes that 2Lt (second lieutenant) Harris had a target. In the post, researchers state, "the MACR indicated that 2Lt Harris was shot down by flak after dive bombing a French chateau…At Barneville-Carteret. The Chateau Chimay had been confiscated by German troops to house an HQ." Dale Harris is still considered missing in action.
The Facebook post states, "since the Chateau is located close to the sea, it is quite well possible that both pilot and aircraft crashed in the sea, explaining why both are still missing." USAAF has also said that Dale Harris was commemorated (shown respect for) on the Cambridge Cemetery Tablets of the missing.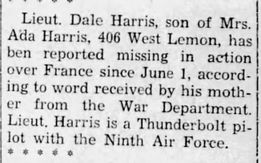 Dale Harris was the son of Ronald and Ada E. Harris. An article from the Santa Maria Times dated July 5, 1944, states that he had been reported missing and his parents were notified by the War Department in June, 1944. Harris was a Thunderbolt pilot with the Ninth Air Force when he went MIA.
While attending Santa Maria High School, Dale was an active band member. Because of the efforts of Rebecca Spendlove, our library technician, the organization gathering information on MIA soldiers is now able to match pictures of him to his name in their database.