Singing the Praises of CODA
The Breeze staff reviews the Oscar-nominated film about a Child of Deaf Adults.
CODA is an Oscar-nominate 2021 comedy/drama film. The main character, Ruby, is a CODA (Child of Deaf Adults). She is the only person in her family who can hear. Her family relies on her for many things. Throughout the movie the audience sees what she thinks of being the translator for her family. We see the struggles they've had and are going through. We are exposed to the emotions and feelings, and frustrations of the characters. I don't think a movie that makes someone cry is necessarily a good film, but this movie made me ugly cry. In this movie the actors were completely in their roles. While watching the movie, I could identify with the characters. I understood them and their actions. I was sympathetic toward them. The visuals, scenery, and music are also all important and help the viewer give into the emotions that the characters are trying to portray.
CODA shows the struggle of a family not being able to hear, except for their daughter Ruby. The family is deaf, but they still did things like a normal family who had no disabilities. The parents, as well as the children, all had normal human qualities. Ruby's parents and brother all showed their emotions. In one scene the mother showed how she was selfish, but then expresses vulnerability.
The family also argues like hearing families would; even though they can't hear or speak they use sign language to do that.  Ruby's mother wanted something to connect the both of them and to have a fun bond of a mother and daughter.  This is important in this movie, because most people might think that since almost everyone in the family has a disability, they wouldn't be portrayed as a normal family.  After watching the movie CODA, having the privilege to hear and speak never seemed more important.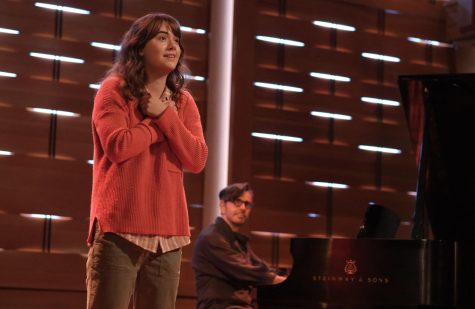 Apart from going to school, Ruby also helps her family when they go out fishing because it is their main source of income. After joining her choir club senior year, Ruby discovers her talent for singing. Once Ruby takes her singing career seriously, it conflicts with helping her family. Her family desperately needs her to help interpret for the business, otherwise they are not able to provide any income. Ruby is conflicted about her future because she also wants to pursue an education in music.
"
This movie can connect with a lot of our students whose parents speak languages other than English.
CODA has a lot of perspectives in them. Ruby has a lot of burden and responsibility put on her since she is the only one who can hear and speak, so she has to be the translator for them. In a way being the only one in your family who can hear and talk is like being the only one in your family who can speak English in an English-speaking world.  I personally think that this movie can connect with a lot of our students whose parents speak languages other than English. I think this because I personally have to translate a lot of stuff for my parents who speak Spanish and Mixteco, and sometimes it gets overwhelming. Ruby has a lot of pressure, mainly being the translator of the family and not being able to be independent when she is of age.  Ruby wants to go be independent but her parents rely on her so much making it nearly impossible for her to live her own life.
Leo is Ruby Rossie's older brother, and he is deaf too. Leo feels like a child because he is deaf, and he can't really do anything about it. He is the older brother, and he feels like he should be responsible for what he is doing and what he is also doing for their parents and not just relying on his sister for everything. He doesn't want to feel like a child or invisible because of his inability to hear; he wants to show to the people and his family that he is there, and he can do things himself.
Although the movie is beautifully played by everyone, the deaf family obviously stands out. Apart from Ruby, the rest of her family is deaf, both in the movie and in real life. Because they are deaf, their parts are always unspoken with them signing instead of speaking. The silence that is created in the movie adds depth to the movie because it demonstrates the reality of those who are deaf.
In one of the most heart-aching scenes, the director of the movie strategically cut all sounds off. To be completely honest, this totally worked because it truly sends a loud message without the noise getting in the way. The silence represents the everyday life that deaf people experience. In addition, the acting of the deaf family is phenomenal because it flows smoothly but achieves its goal of making the audience cry.
CODA is a movie that originated from a French film called "La Famille Belier." It isn't based on a true story, and in the original film all of the actors could hear and were taught sign language. In CODA, the main characters who act deaf in the movie are actually deaf in real life as well.
Marlee Matlin, the mother, was born with the ability to hear, then sadly lost it when she was 18 months old due to illness, Regardless, she started acting around the age of eight, when she had her first starring role in The Wizard of Oz, which was staged by the Children's Theatre of the Deaf, which was also being sponsored by a lot of deaf-supporting companies. Marlee Matlin won her first Oscar in 1987 because of her performance in the film Children of a Lesser God.
Troy Kotsur, the father, has been deaf since birth and has been acting and directing films since 1994. His first film was Of Mice and Men, which gave him a shot at acting, he didn't feel too hopeful about being a deaf actor until he saw Marlee Matlin win her first Oscar in 1987.
Daniel Durant, the older brother in CODA, has been deaf since birth, just like Troy Kotsur. Daniel had joined the Deaf West Theater in 2012 when he moved to L.A. Since then he's moved through many deaf companies to act in movies, and star as a guest actor. His biggest appearance for now was his role in Broadway's 2015 Spring Awakening.
Emilia Jones, the only member of the deaf family who can hear in real life, was born in 2001, and has grown so much for the movie CODA. Emilia learned how to do amazing sign language and learned how to sing for her role of Ruby Rossi. Emilia's first film was at the age of 8; she starred as Jasmine in the film One Day.
Eugenio Derbez is a Mexican actor, one of his most well-known appearances is as Valentin, in the movie Instructions not Included, a film that became the most successful Spanish-language film in the world. For CODA, Eugenio Derbez plays Bernardo Villalobos, Ruby's choir teacher. Eugenio Derbez's role is a small but very supportive role. For CODA he had to relearn how to play the piano, he also had to learn how to teach singing and direct a choir.
Overall, the movie gives us a slight perspective of deaf people in our community and their experiences. After watching the movie, even I feel encouraged to start learning sign language to help support those who can sign and not sing.
You can watch the trailer for CODA here.