Genshin Impact's Catastrophic Anniversary Day
On Tuesday, September 28th, Genshin Impact had its first anniversary; this was a memorable event, not in the best way though. 
Genshin Impact is an open-world game; you have a party of four characters and you can switch between them to use their different abilities. Every character has different abilities; some are similar but still different in their own ways. Genshin Impact is also a game where there are limited-time characters and weapons: they will and do eventually come back.
Knowing some characters and weapons are limited, people either save up their primogems and intertwined fates, which are the only ways to wish (taking a chance) for the limited things, or they use a lot of money. This can be up to hundreds of dollars. Genshin Impact also has a pity system where every 90 wishes you're guaranteed a five-star character, or if you wish for weapons, every 77 wishes you're guaranteed a five-star weapon. There's also a chance you lose the 50/50, it's called a "50/50" because if you wish for a character and get a five star, there is a 50% chance you get the limited character or a random five star character or weapon; if you lose the 50/50, the next five star is guaranteed to be a limited character. For weapons you can lose up to two 50/50 per limited weapon; it resets after the limited weapon changes, which is every three weeks.
Since the chance of getting a five-star character before 70 wishes is less than 0.5%, a lot of people rely on special events for good rewards, Mihoyo (the creators of Genshin Impact) are a Chinese company, so during the Chinese New Year they gave the community ten free wishes during a weekly login event, and a lot more primogems through other events going on for the Chinese New Year.
This made the community enraged, and disappointed when Mihoyo basically did the same thing for their first anniversary, but with a lot less rewards. This event was called "Moonlight Merriment;" it was full of story and gave you around 500 primogems, and a free claymore, another name for greatsword, named "Luxurious fish lord," a big tuna fish.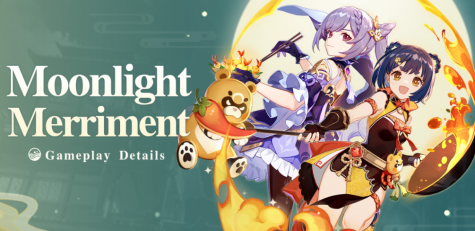 Most people were hoping for something a lot greater, this led to a lot of backlash and revolts against Mihoyo. From there, the roaring rage of the community wasn't dying down, the community started reviewing random apps as one star on both Google Play and Apple Store for the horrible rewards Mihoyo gave. Some of these apps were Google Classroom, Cookie Run: Kingdom, and Honkai Impact 3rd, Clash of Clans, Roblox, and many more. They started complaining about Mihoyo and how they reward content creators with an abundance of primogems, but not their own community. The arguments weren't that strong though, so it was mostly just complaints about the anniversary rewards. Genshin Impact had a rating of about 1.8 on the day of it's anniversary, September 28th, at around 11AM; even now Genshin Impact has a lot of one-star reviews, going from its 4.5 star rating, before the anniversary, to a 3.5 star rating in its current state.
Genshin Impact is a great game and to see that it has a community willing to do a variety of things simply to get better rewards has many in awe. In the end the players did end up getting what they wanted this whole time: they got a giveaway, which gave out welkin moons, they give you 90 genesis crystals every day for 30 days, they got 1600 more primogems, and various other rewards.